The Cinnabar Bow is proud to be an official reseller of Mariner (水手) Traditional Chinese Bows. Mariner's handmade bamboo-fiberglass laminated bows have been gaining a reputation in China for their performance and craftsmanship. Find out more about Mariner, his bows, and other traditional archery gear made by our friends (like quivers by Nomadic Arts Archery) by clicking the tabs above.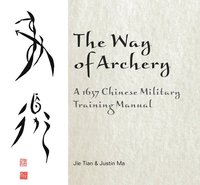 The Way of Archery: A 1637 Chinese Military Training Manual (by Jie Tian and Justin Ma) is a new book about Chinese archery technique that is now available for pre-order (official release date is February 2015). Please see the Books page for pricing information. Customers receive a discount on the book when they bundle it with the purchase of other equipment.
Please also visit the official site for The Way of Archery for more information, as well as updates about related teaching events.
News
May 3, 2014: The new Ming Moon 7 is now available for sale! The Ming-7 is optimized for a short draw and has a more aggressively reflexed design than previous generation Ming Moons. Could this be the right bow for you? Learn more.
---
April 8, 2014: We are announcing a price increase for our bow models starting with orders placed on Friday, April 18th and after. (Customers who have placed orders before that date will not be affected by the price change.) Part of the reason is that demand for Mariner's bows continues to rise above his production capacity (but we're trying our best to keep up with demand while staying true to our principles!), and operational costs continue to rise. At the same time, we want to continue investing in research that helps us introduce new features and refinements to our bows, as well as to provide ever more competitive and comfortable living wages for the apprentices who assist Mariner in his craft. Thank you again for your interest, support, and understanding.
---
April 5, 2014: We're in the process of establishing a new horseback archery club in the Bay Area called the Sonoma Coast Centaurs (in Petaluma, California), and this past weekend we held our first general interest meeting/clinic. The meeting was organized by Mike Loades and the Sonoma Coastal EquesTraining Center. Mike gave an overview lecture/demo, Tim Macmillan demonstrated Yabusame and provided hands-on instruction, and I provided a hands-on demo of thumb ring shooting. Great start! Photos of the gathering here.
---
February 15--17, 2014: We held another productive and successful Chinese Archery Training Program at Jaap & Kay Koppedrayer's Bamboo Farm in Odum, Georgia! Peter Dekker provided instruction and presented his latest research on Manchu/Qing archery, while I provided instruction in Ming dynasty archery. Photos and a review of the event are available below.
---
January 31, 2014: Happy Near Year of the Horse! Thanks again everyone for your continued support of The Cinnabarbow Bow. We have some exciting developments in store for this year. One is wooden veneers, of which Mariner has been experimenting with Bocote (among other woods). The other is the new specialized Ming-7 for short draws up to 28"-from-the-belly. We've been evaluating prototypes and will be ready to debut it soon. Please stay tuned for upcoming announcements!
---
October 3, 2013: People often ask me how to use the thumb rings with guards. To that end, I have filmed a short video on how to use this style of ring, as you can see below and on the Rings page.
---
May 13, 2013: On April 20--21, 2013, I traveled to Somerset, England and gave a presentation about Ming Dynasty military archery at the SPTA St. George's Shoot. Had a great exchange with all the archers there, including Mark Stretton (who holds the world record for shooting with a 200# English longbow) and Joe Gibbs (who himself can shoot with 180# English longbows). There's a brief photo album of the event, and some video me working with Mark on some heavy bow pulling drills.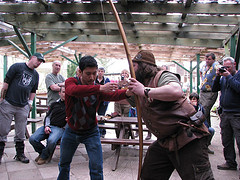 ---
April 12, 2013: Here are some photos from the Chinese Archery Program and Lectures that were held in Odum, Georgia, USA this year on March 22nd--24th. Jie Tian and I gave a lecture on Ming Dynasty military archery, and provided instruction in Ming archery technique. We thank Jaap and Kay Koppedrayer (Yumi Bows), and Peter Dekker (Manchu Archery) for organizing, lecturing, and teaching. And most importantly, thanks to all the people who traveled from all over the participate!
It was a tremendous amount of fun, and we plan to do it again next year during President's Day Weekend 2014!
---
Previous News: Please see the News Archive.
---
Visit our community at the Chinese Archery Facebook group.